May 18-19 , 2013 CTFI National Championships Quebec City, Quebec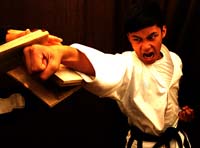 QUEBEC, QUEBEC – the beautiful city by the edge of the Saint Lawrence River, has borne witness to many a significant event in history, not the least of which is being the first city established as a permanent settlement in Canada.   The Victoria Day long weekend on May 18 – 19 is another such day.  ITF Quebec  hosted the  2013 International Taekwon-do Federation National Championships at the Cégep Limoilou Sports Complex, and the city once again recorded a new page in history as it witnessed the emergence of a new breed of champions. 
The best of the best in ITF taekwon-do from all over Canada gathered to compete in various events that included patterns, sparring, powerbreaking, special techniques, prearranged sparring, team patterns and team sparring. This year, gold and silver medal winners of these events were invited to become members of Team Canada which will represent the country at the World Championships to be held on October in Benidorm, Spain.
Three of our Blackbelts travelled to the east to answer the challenge: Mr. Xiang Wei Wan (with Dad, KS Wan), Mr. Manuel Darson Andaya and coach Mr. Darius Andaya. Although our boys did a great job on their patterns, they came up short and failed to get to set A on the first day. At the end of the next day however, Mr. Manuel Andaya won gold in Powerbreaking, a surprise win considering this is his first entry to the event. None of the other competitors in the Junior Blackbelt division were able to break any boards on the first round and therefore did not qualify for medals and consequently, membership to Team Canada. The championship title gave our club our first student to qualify for the World Taekwon-do Championship. Mr. Darius Andaya also dis well with a bronze medal for the Super senior powerbreaking.
Congratulations Manuel! Train hard and have fun in Benidorm, Spain on October!