February 10, 2013 ITF of BC Provincials, SFU, Burnaby, BC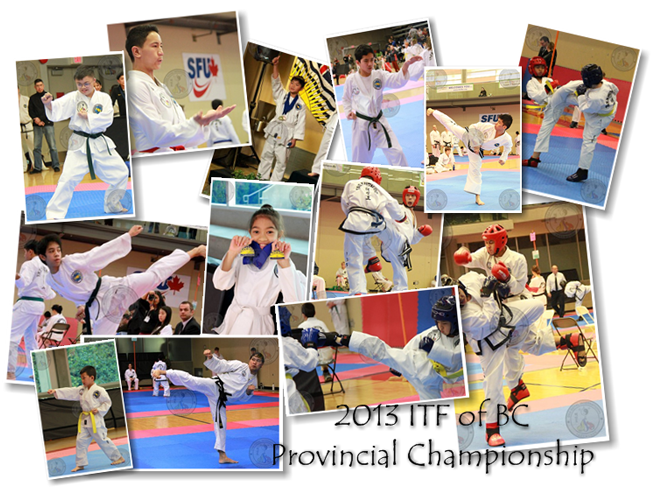 Once again, DSA students showed true taekwon-do prowess at the 2013 ITF of BC Taekwon-do Provincial Championships held on February 10, 2013 at Simon Fraser University in Burnaby, British Columbia.
The tournament, attended by more than 290 competitors from all over BC, was open to all students wishing to test their skills on patterns (technical know-how), sparring (fighting prowess) and powerbreaking (strength). Twenty DSA delegates, won a total of 37 medals: 19 gold, 11 silver and 7 bronze. On several divisions, DSA students met at the finals to win top honours.
| | | | | |
| --- | --- | --- | --- | --- |
| | | Patterns | Sparring | Powerbreaking |
| Alban | Ethan | Silver | Gold | |
| Andaya | Darius | Silver | Did not Participate | Gold |
| Andaya | Darryl | Great effort | Did not Participate | |
| Andaya | Manuel Darson | Gold | Silver | |
| Deguzman | Edgar | Gold | Gold | |
| Deguzman | Roanna | Gold | Gold | |
| Deguzman | Roni | Gold | Silver | |
| Diano | Kenzo | Did not Participate | Bronze | |
| Duran | Grazelle | Gold | Gold | |
| Duran | Rysan | Gold | Gold | |
| Geng | Matthew | Gold | Silver | |
| La | Jimmy | Gold | Bronze | |
| Manangan | Glen | Gold | Bronze | |
| Manangan | Jay | Gold | Gold | |
| Mendoza | Christopher | Bronze | Bronze | |
| Pestano | Eleazar | Gold | Silver | |
| Velasquez | Vincent | Bronze | Gold | |
| Vince | Kento | Silver | Silver | |
| Wan | Qishin | Silver | Bronze | |
| Wan | Xiang Wei | Silver | Silver | |