We are your Vancouver Burnaby Taekwon-do School!
With access to books and the internet, martial arts training are now at everyone's fingertips. However, there is nothing that can replace the guidance of a good instructor and the support of your fellow learners. After all, why else do we still go to schools and universities if we can learn everything with books and the web? Our instructors are internationally certified by the International Taekwon-do Federation to help train you to be the best you can be.
Taekwon-do is a way of life, as taught by its founder, General Choi. It is not just kicking and punching. Our practitioners not only learn how to effectively defend themselves but also develop the mindfulness and self awareness needed to know when to use it. They learn when to use the closed fist of violence as well as the open hand of peace.
We have programs available for any age: The preparatory Little Dragons Kids class for ages 4-6 years old, the Regular ITF program for ages 7 and up, as well as the Harmony Program for our senior citizens (50+). We also have our Special Needs Program developed for students with Developmental, Physical or cognitive Challenges. These programs are all developed with the aim to accommodate everyone willing to learn Taekwon-do. We are very proud of the courses we offer and we welcome you to try one to see why DSA Taekwondo is the right choice for you.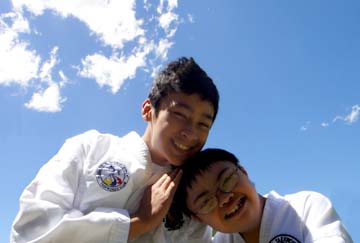 Centrally Located
DSA Royal International Taekwon-do (or DSA Taekwondo) has been teaching and developing champions in the Vancouver lower mainland since 2008. Although majority of our students are from Vancouver and Burnaby, many travel from other parts of the lower mainland to participate in our classes.
Our office is centrally located in Burnaby, near the Metrotown Area. We are one block west of the corner of Central Ave and Imperial St. in Burnaby. It is easily accessible by bus and the Metrotown Skytrain is just a 5 minute walk from our studio.
Family – Focused Environment
Through the years, DSA Taekwondo has built a tradition of high quality martial arts instruction, unquestionable professionalism and a vibrant team and familial spirit. At DSA Taekwondo, our students not only join a martial arts class, they join our extended family. Family owned and run, our team makes sure that we treat our members like family, always concerned about their well-being and progress. Even as the faces within these walls change, these shall ever remain a part of DSA Taekwondo.
Our mission:
To provide the highest quality of instruction to our students- regardless of their abilities, and to help them achieve their greatest potential as an athlete, and as a valued member of the family and society.